Matthieu aka Mr Ganga
Author and composer Computer assisted music - Traditional Percussion - Back-up vocals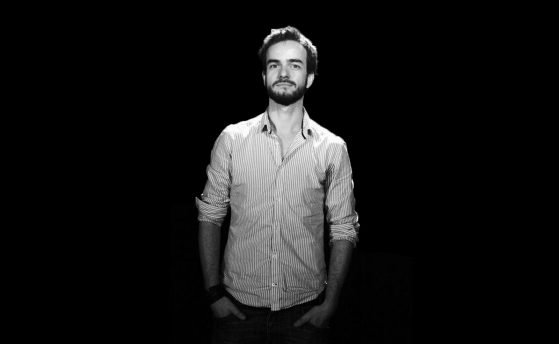 His musical personality was molded by his travels and encounters in traditional drums as well as contemporary music.
He's been musically trained at the Superior Institute of Arts in Havana, Cuba and the Conservatory of Music and Dance in Lyon, France.
His research work on the setting of contemporary dance music quickly lead him to associate the sensitivity of traditional music to the diversity of computer music. He was trained by Dominique Poutet on computer music, whose a major consultant on the project.
Matthieu develops this tool later with contemporary dancers with whom he has worked for many years as a composer (Cie Hassoun, Cie Désoblique, collective A2, Biennale de la danse de Lyon …) and accompanist (at the CCN of Rillieux, direction Yuval Pick , the CND of Lyon, the CFdD …). Matthew has developped a particular sensitivity to the body in motion.
He is a composer and sound designer for selected short films in numerous international festivals
* Vertige : San Francisco Dance Film Festival 2014, USA ; Bienal Internacional de Video y Cine Contemporáneo 2014, Mexique; Message To: San Francisco Dance Film Festival, San Francisco, USA; ARTE NON STOP – Festival Internacional de Cine y Arte, Buenos Aires, Argentina; Festival de Cannes 2016 – Short film corner, Cannes, France; Hollywood International Film, USA, 2016 *
Finally, his work for 6 years at La Timba Del Mundo (street art company) has led him to build a critical sense of staging, comedy and relations to the public.
Creator of Wanga concept.
Telep Maemble aka Baron
MC-Singer Author
Telep is a young Franco-Cameroonian author / composer and arranger from Lyon.
This young "Telepathe" as likes to nickname his friends, for his sense of melody
and verve, discovered his vocation as an author on the school benches. At that time he listened to artists such as Sting, Stevie Wonder, Phil Collins, Michael Jackson, Ray Charles .. or Georges Brassens and Anthony Hamilton.
Today Telep expresses his experience through his texts, always very poetic and borrowed. 'optimism.
His influences are diverse and range from Jazz to hip-hop through Rock, Soul and Gospel.